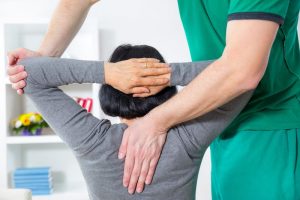 The Chiropractors in this office have each been in private practice for over 10 years, we have treated thousands of car accident victims, and we pride ourselves on our expertise in this area. We are not only experts on the diagnosis and treatment of automobile injuries. We are also experts (along with our friendly staff) in the navigation of tedious paperwork associated with car accidents. The doctors and staff here treat every patient with the utmost respect and have empathy for this difficult time in a patient's life. Since we have deep roots right here in Charlotte North Carolina we have wonderful contacts and can recommend the best attorneys, collision shops, and medical specialists if necessary.
Chiropractors are extensively trained to examine the muscles, bones, and joints of the human body. We are also trained to understand how each of these parts work together and what types of dysfunction to look for after a motor vehicle accident. In our office, after an accident has occurred, patients can expect to be examined by the doctor. The examination may include and not necessarily be limited to orthopedic, neurological, and functional testing. Most patients are given x-rays that are specially analyzed to determine if structural damage has occurred. After the physical and x-ray exams are completed, some form of therapy is given the same day provided the patient does not need to be referred out.
The next time you or a loved one is involved in a motor vehicle accident think of us at the Accident Recovery Center. Where We've Got Your Back!