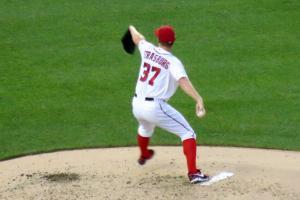 Tuesday May 5th 2015 Washington National's Stephen Strasburg put a slight scare into the hearts of his team mates and fans after some grimacing and eventually being pulled in just three innings against the Florida Marlins according to Mark Zuckerman (Nationals insider). His pitching was inconsistent but effective in the 2-1 loss to the Marlins. After the game it was determined that the problem was stemming from discomfort under his shoulder blade and not his shoulder or elbow. Shoulder and elbow issues for a major league pitcher can be devastating to a career. The shoulder blade (scapula) and thoracic region of the spine will be examined by a chiropractor on Wednesday May 6th and hopefully he will be ready for his next start on Monday May 11th.
"I think it's something where I just need to get an adjustment, or something like that," Strausburg said. "The best way I can put it: You're driving a car fast over speed bumps. The irritation kind of rattles the cage a little bit." The altered mechanics from Strasburg's discomfort caused his pitch count to rise to 64 due to his accuracy issues and manager Matt Williams shut him down at that point. "It just kind of caused me to alter my mechanics a little too much, and I lost some command from it," Strausburg said.
Altered mechanics eventually leads to shoulder and elbow injuries that can nag over a prolonged period of time or land the player on the disabled list. The chiropractor will provide a full consultation, spinal and extremity examination as well as a neurological and functional exam to formulate the best possible diagnosis for Mr. Strasburg. He will either receive care at the chiropractic clinic, or be referred out for further testing.