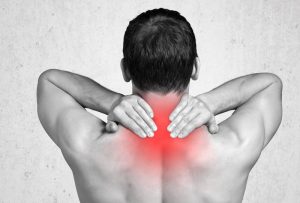 Back Pain
Most people experience mid-low back pain at some point in their lives. Here at Accident Recovery Center approximately 90 percent of car accident victims present with back pain.
The jarring effect of a car accident most commonly sprains the ligaments of the spine and strains the tendons and muscles. Scar tissue begins to form within 24 hours of a motor vehicle accident; this is why it is so important to begin the rehab process immediately.
Back pain is a symptom that something is not functioning properly; the problem can occur acutely from a direct trauma or can occur from no apparent incident at all. When someone presents with insidious onset of mid to low back pain it is extremely important to sit down and go over a full history with the patient. Often times we find that the pain stems from not one major trauma but a series of hundreds and hundreds of small traumas.
Traumas can start from the birthing process itself, children are born head first and there is often twisting, turning, bending and pulling involved. Learning to walk comes with its fair share of bumps and bruises. Playgrounds are full of nasty little mishaps from hopping off swings to plopping on your butt at the end of the slide to teeter totter and merry go round accidents.
As we grow older we gain speed and strength and the games get more physical; all of the bumps and bruises add up. Jobs contribute to back pain due to poor postures, repetitive stresses or just plain back breaking work and this is not even counting work related acute injuries due to a specific incident.
At Accident Recovery Center we take a thorough history, perform a thorough exam including X-ray's if necessary and then sit down to thoroughly explain our findings to the patient and answer any questions they may have.
Neck Pain
As a chiropractor here in Charlotte specializing in the care of motor vehicle accident victims, we see our fair share of people suffering from whiplash related neck pain. We utilize in office x-rays to determine fracture, instability of the joints, dislocation and positioning with respect to the proper curvature of the spine. Whiplash is a term used for car accident victims suffering from neck pain caused by the acceleration/deceleration forces imposed on the neck as a result of the head rapidly being snapped back then forward after the victims car has been hit from behind.
Common causes of whiplash in addition to auto accidents are contact sports injuries, physical abuse or any other type of trauma causing a person's head to quickly accelerate and decelerate in a forward and backwards action. Whiplash can cause problems with the muscle, the bones alignment, joints and the brains ability to communicate with the rest of the body. The brain is the master computer of our bodies and the way the brain communicates with the body is through the spinal cord and the spinal nerves that come out of each level of the spine. Inflammation in the joints caused by whiplash can cause prolonged pain, weakness, and limited function in your neck. Inflammation builds and can compress nerves by decreasing the space where the nerves exit the spine.
Compressed nerves are commonly referred to as pinched nerves; the chiropractic term for pinched nerves is subluxation. A subluxation complex resulting from a motor vehicle accident is a compressed nerve as a result of a dysfunction involving the muscle, joint and bone. Subluxations put pressure on spinal nerves resulting in problems with the brains ability to communicate with the body's organ systems, the upper extremities and or lower extremities. Pinched nerves can be extremely uncomfortable and cause pain to shoot down a person's arms and or legs. Pinched nerves can also cause numbness, pins and needles, loss of reflexes and loss of muscle strength.
After a motor vehicle accident a nerve can be pinched immediately from shifting bones compressing the nerves or a disc injury compressing them. Pinched nerves can occur over a more gradual period consisting of hours or days as inflammation expands in the joint space. Pinched nerves as a result of a car accident can also occur over a period of months or years if the individual was not properly rehabilitated and scar tissue formed as a result.
Whiplash almost always involves a tearing of ligaments, ligaments attach bone to bone. Whiplash also involves tendons, tendons attach muscle to bone.
Posture
Poor posture typically comes from everyday situations that put our bodies in less than optimal positions for extended periods of time over the course of months or years. These less than optimal positions cause muscles to become shortened and tight while at the same time the antagonist muscles are lengthened and weakened.
A common situation we see resulting in muscle imbalance is someone that sits in a chair at a desk all day long. When sitting in a chair the knees are bent at 90 degrees and so are the hips causing tightened, short hamstrings and tightened, short hip flexors (illiopsoas), these muscles need to be stretched. The opposite muscles that are in a constant state of elongation are the stomach (abdominals) and buttock muscles (glutes), these muscles need to be strengthened. Without addressing opposing muscle groups the patient will continue to have muscle spasm, aches and pains.
Often times a patient will consult their medical doctor about muscle spasms only to be promptly prescribed a muscle relaxer. Unfortunately muscle relaxers do not address the underlying cause of the muscle spasm and the problem persists. Chiropractors are trained to take a look at the underlying root causes of our patient's problems involving the musculoskeletal system, nervous system and beyond. Accident Recovery Center does just that.
The Spinal Connection
Your brain is central command for your body. A lot of people don't realize that everything in your body is connected to central command. When people experience pain in their head, jaw, arms, hands, legs and or feet we need to investigate the origin of pain.
Often these areas are a result of spinal pressure on the spinal cord, spinal nerves or both. Spinal pressure can cause pain at the spine, or cause pain away from the spine, or both. When pain from the spine causes pain in areas away from the spine it's called radiculopathy.
Many times we have patients come in with only headaches, arm, leg or knee pain and after examining them we are able to determine if their pain is in fact coming from the area that hurts or if it's radiating along a nerve and coming from the spine. Although rare, sometimes after a thorough examination we still cannot find the area of origin; in this case an MRI may be indicated. If an MRI is indicated we have the ability to rapidly and directly refer patients to great facilities.
Some common causes for radicular type pain could be herniated discs, bulging discs, bone spurs (associated with arthritis), stenosis (a narrowing of the space that the nerve lives), subluxation, and cancer.
Headaches
Nine out of ten Americans say that they suffer from headaches. Some of these people experience headaches frequently. Some experience constant headaches that are very painful. These can even make a person nauseous. When most people get a pounding headache, they continue on with their day, lie down, or pop a pill and hope for the best. There is a better way!
Arthritis
Arthritis, or joint pain or joint disease, is the leading cause of disability in America. More than 50 million adults and 300,000 children are suffering from some type of arthritis. Common symptoms include swelling, pain, stiffness, and decreased range of motion. Severe arthritis can result in chronic pain, inability to perform normal day-to-day activities, and has the potential to cause permanent joint damage.
To determine whether or not you may be suffering from arthritis or to determine the severity, your medical professional will perform blood tests and conduct an imaging scan (ie: x-ray, CAT scan or MRI). Eating healthy, staying active, and understanding your type of arthritis and treatment options are crucial to decreasing your discomfort and paving the way for an enjoyable, happy life.
If you have questions about arthritis or would like to schedule an appointment, please don't hesitate to call us today.
Pinched Nerves
Pinched spinal nerves can develop suddenly or gradually. Sudden compression usually occurs in the setting of an acute joint problem called a "herniated disc". More gradual compression usually occurs over time due to bony changes that develop with the aging process and development of bony overgrowth and bone spurs.
The pinching of spinal nerves from a sudden (or acute), soft disc herniation can often be treated through visiting your chiropractor in addition to avoidance of activities that cause pain, appropriate physical therapy, oral medications, and frequently x-ray guided (also known as fluoroscopically guided).
Strains and Sprains
Falling or twisting the wrong way typically causes a sprain, because the movement forces a joint into an awkward position and ends up stretching or tearing the ligament. Twisting an ankle, falling down the stairs, or trying to catch yourself on an icy walkway are all ways to end up with a sprain.
A strain often results from overexertion or trauma, and repetitive movement. Lifting an item that is too heavy, jumping into an exercise routine that is too strenuous, or performing repetitive movements in either a sport or work are ways an individual can end up suffering from a strain.
Ankles, wrists, knees, and fingers are all areas that are frequently sprained. Strains, on the other hand, commonly occur in the back, shoulder, or hamstring, as both of these areas are affected by overexertion or repetitive movement.
The benefits of seeing a chiropractor for both sprains and sprains are twofold. Chiropractic treatments promote healing of the injured area as well as help strengthen the areas around the injury to decrease the chance of future injuries.
Tendonitis
Tendinitis is an inflammation or irritation of a tendon, a thick cord that attaches bone to muscle. Tendinitis is most often caused by repetitive, minor impact on the affected area, or from a sudden more serious injury.
Tendinitis can occur in almost any area of the body where a tendon connects a bone to a muscle. The most common places are:
Base of the thumb
Elbow
Shoulder
Hip
Knee
Achilles tendon
Bursitis
Bursitis (bur-SY-tis) is a painful condition that affects the small, fluid-filled sacs — called bursae (bur-SEE) — that cushion the bones, tendons and muscles near your joints. Bursitis occurs when bursae become inflamed.
The most common locations for bursitis are in the shoulder, elbow and hip. But you can also have bursitis by your knee, heel and the base of your big toe. Bursitis often occurs near joints that perform frequent repetitive motion.
Visiting a Chiropractor for treatment can greatly help ease your pain. Schedule an appointment to come visit us today!
Muscle Spasms
A muscle spasm is a sudden, involuntary contraction of one or more muscles. A spasm results from an abnormally sustained muscle contraction and is often painful. Various muscles may develop spasms, including the small intrinsic hand muscles of a musician to the larger "charley horse" calf muscles of a runner.
Skeletal muscle spasms may be the result of muscle injury or overuse. They may occur, for instance, when an athlete has not warmed up or stretched prior to vigorous anaerobic exercise, such as sprinting or jumping. They may also occur during endurance training when, for example, a marathoner has not maintained proper fluid and electrolyte balance, and muscles with increased metabolic demand are depleted of nutrients. These types of spasms can quickly be resolved with a trip to the chiropractor as well as hydration, and gentle stretching.
Rotator Cuff
There are many structures that can be injured in rotator cuff impingement. How the impingement occurred is the most important question to answer. This is especially important if the onset was gradual since your static and dynamic posture, muscle strength, flexibility and spine shape all have important roles to play.
Once you suspect any rotator cuff injury, it is important to confirm the exact type of rotator cuff injury since treatment does vary depending on the specific or combination of rotator cuff injuries.
Your rotator cuff is an important group of control and stability muscles that maintain "centralisation" of your shoulder joint. In other words, it keeps the shoulder ball centred over the small socket. This prevents injuries such as impingement, subluxations and dislocations.